Soldiers are the guardians of the nation and they devote themselves to shield us at any cost from every calamity. Being a soldier is considered as the highest virtue for any citizen and celebrating Veterans Day is a great gesture of cherishing the faithfulness and bravery of soldiers. These 15 Quotes for Veterans Day allow you to express your gratitude towards brave heroes who served the country in the army and protected their citizens. These quotes can add extra wonders to your celebrations.
"It doesn't take a hero to order men into battle. It takes a hero to be one of those men who goes into battle." – Norman Schwarzkopf
"Honoring the sacrifices many have made for our country in the name of freedom and democracy is the very foundation of Veterans Day." – Charles B. Rangel
"The true soldier fights not because he hates what is in front of him, but because he loves what is behind him." – G. K. Chesterton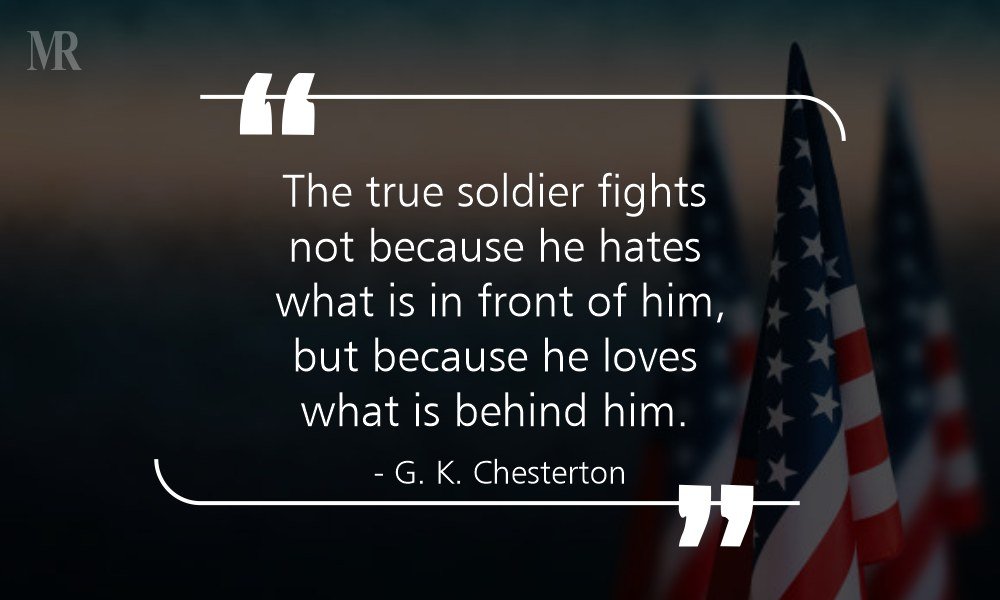 "The legacy of heroes is the memory of a great name and the inheritance of a great example." – Benjamin Disraeli
"The willingness of America's veterans to sacrifice for our country has earned them our lasting gratitude." – Jeff Miller
"As we express our gratitude, we must never forget that the highest appreciation is not to utter words, but to live by them." – John Fitzgerald Kennedy
"True heroism is remarkably sober, very undramatic. It is not the urge to surpass all others at whatever cost, but the urge to serve others at whatever cost." – Arthur Ashe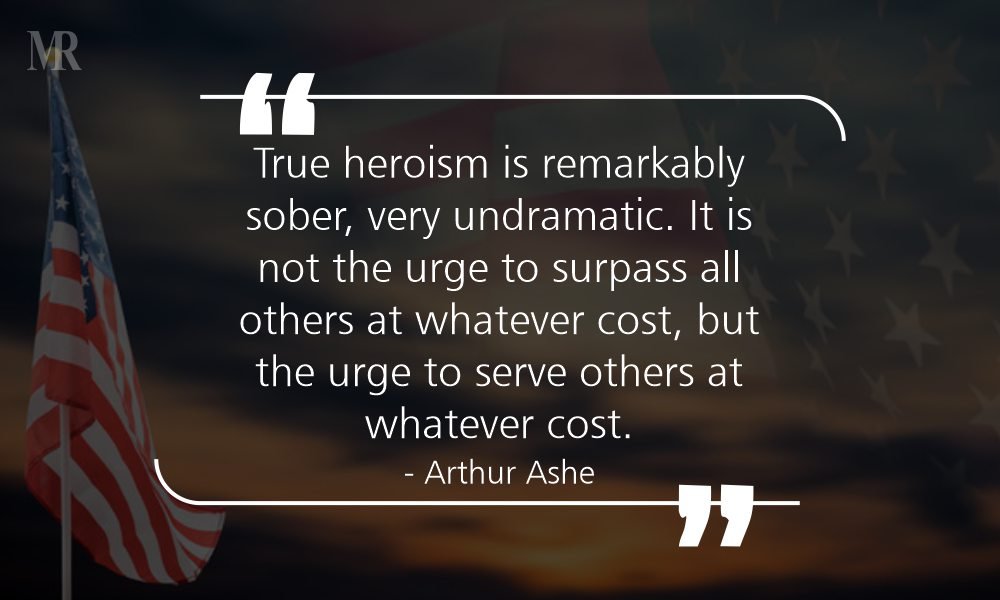 "Better than honor and glory, and History's iron pen, was the thought of duty done and the love of his fellow men." – Richard Watson Gilder
"I respect every soldier, from every country, who serves beside us in the hard work of history. America is grateful, and America will not forget." – George W. Bush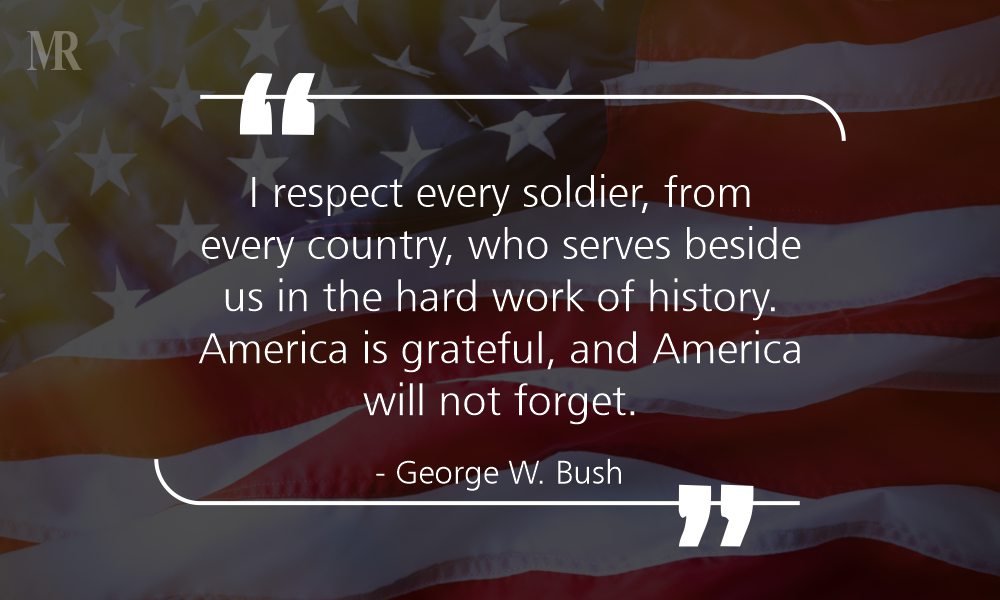 "Duty, honor, country. Those three hallowed words reverently dictate what you ought to be, what you can be, what you will be." – Douglas MacArthur
"Our flag does not fly because the wind moves it; it flies with the last breath of each soldier who died protecting it." – Unknown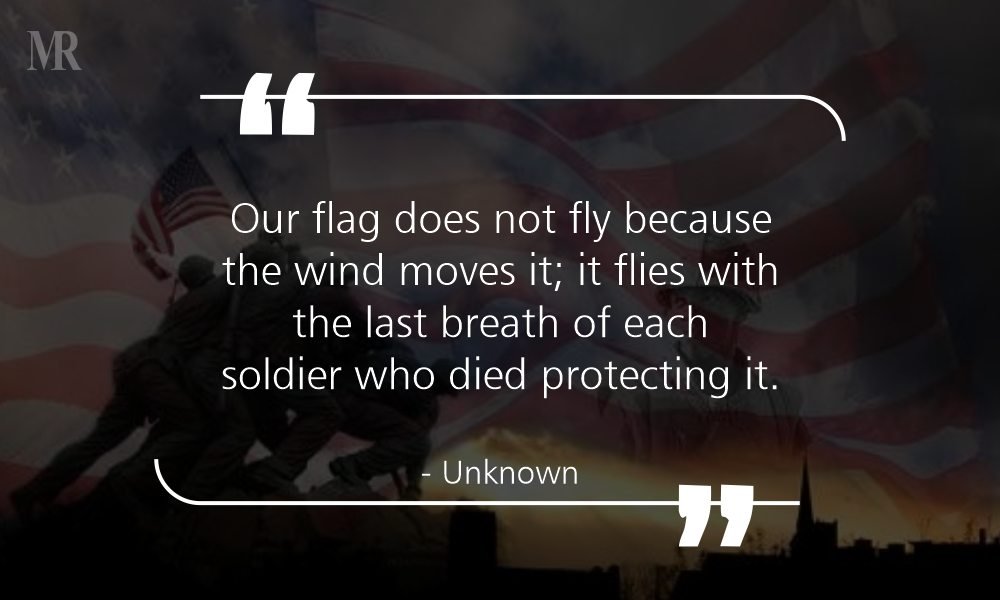 "Anyone who has ever looked into the glazed eyes of a soldier dying on the battlefield will think hard before starting a war." – Otto von Bismarck
"Heroism doesn't always happen in a burst of glory. Sometimes small triumphs and large hearts change the course of history."- Mary Roach
"The soldier above all others pray for peace, for it is the soldier who must suffer and bear the deepest wounds and scars of war." – Douglas MacArthur
"Regard your soldiers as your children, and they will follow you into the deepest valleys. Look on them as your own beloved sons, and they will stand by you even unto death." – Sun Tzu
Soldiers who served during war time for the United States and lost lives would never come back. However, the pride they brought to the nation will stay here forever and inspire the whole world. The present as well as future generations are lucky enough to make the most of the prosperity the country has offered. These Quotes for Veterans Day stand by you when the country is moaning about the pain of losing martyrs who had stepped forward to sacrifice their lives when the country needed them the most.
Also Read: Lift your Morale with these 10 Optimistic 9/11 Quotes