"Non-violence is not a garment to be put on and off at will. Its seat is in the heart, and it must be an inseparable part of our being," wise words quoted by Mahatma Gandhi on non-violence. On 2nd October, we all will be celebrating his 150th birth anniversary. Here are thoughts of a few world leaders on Gandhi Ji's vision of non-violence. On 15th June 2007, the UN General Assembly declared that 2 October will also be marked as International Day of Non-Violence.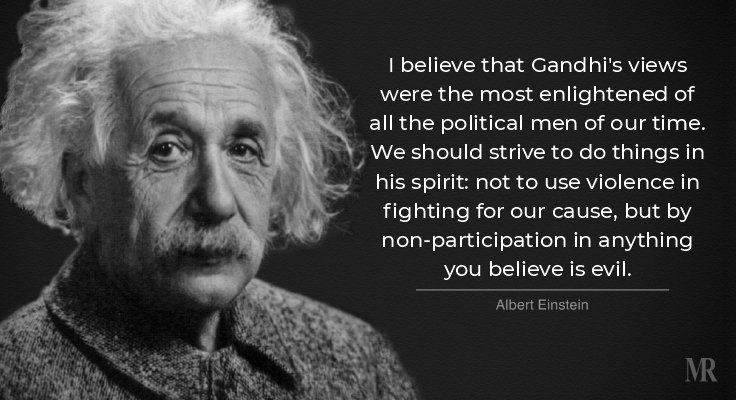 Albert Einstein
In 1931, Albert Einstein wrote a letter to Mohandas K. Gandhi expressing his admiration for the non-violence methods. However, the letter was written in German which was later translated: You have shown through your works, that it is possible to succeed without violence even with those who have not discarded the method of violence. Einstein's life and thoughts were very much influenced by Gandhi. In an audio clip recorded in 1950, he praises Gandhi Ji by saying:
I believe that Gandhi's views were the most enlightened of all the political men of our time. We should strive to do things in his spirit: not to use violence in fighting for our cause, but by non-participation in anything you believe is evil. – Albert Einstein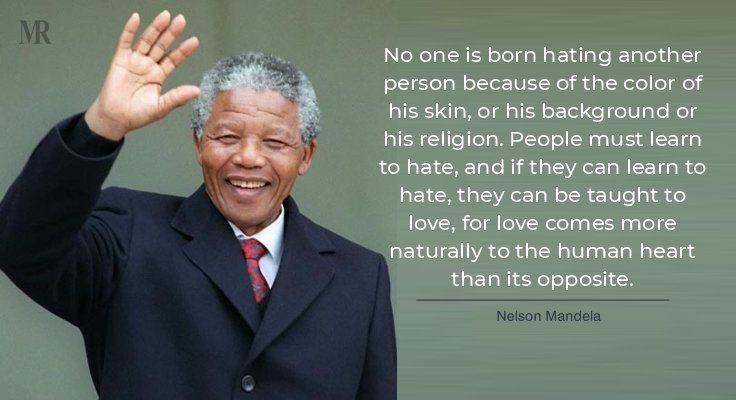 Nelson Mandela
In 1994, Nelson Mandela was awarded with the Nobel Prize for peace. Mandela claimed that he owed his success to Mahatma Gandhi. He is also known as "Gandhi of South Africa." Even before receiving Nobel Prize, he was the first Non-Indian recipient of Bharat Ratna. In 1993, during the unveiling of Gandhi Memorial in South Africa said, "The Mahatma is an integral part of our history because it is here that he first experimented with truth; here that he demonstrated his characteristic firmness in pursuit of justice; here that he developed Satyagraha as a philosophy and a method of struggle."
No one is born hating another person because of the color of his skin, or his background or his religion. People must learn to hate, and if they can learn to hate, they can be taught to love, for love comes more naturally to the human heart than its opposite. – Nelson Mandela
Also read, Top Nelson Mandela quotes that will inspire you to achieve greatness.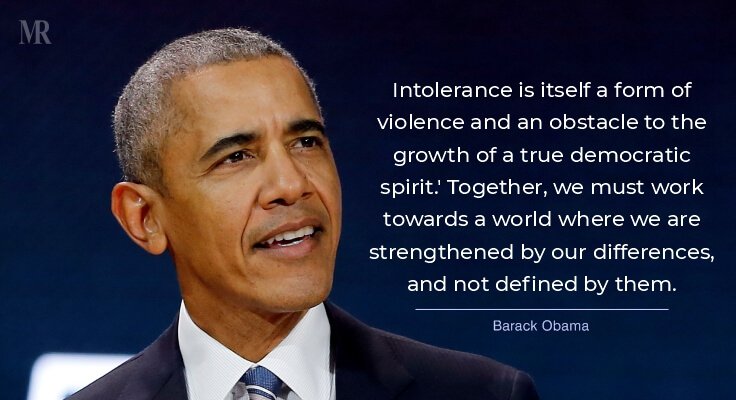 Barack Obama
Former U.S President Barack Obama during his Nobel Peace Prize acceptance speech in 2009 said, "As someone who stands here as a direct consequence of Dr. King's life work, I am living testimony to the moral force of non-violence. I know there's nothing weak — nothing passive — nothing naïve — in the creed and lives of Gandhi and King." In 2009 Obama served as the 44th president of the United States and wrote the history by becoming the first black President of the United States. In his Senate office, he had a photo of the Indian freedom leader on the wall. During his tenure as President, he visited India quite a few times where he mentioned: "Throughout my life, including my work as a young man on behalf of the urban poor, I've always found inspiration in the life of Gandhiji and his simple and profound lesson to be the change we seek in the world."
'Intolerance is itself a form of violence and an obstacle to the growth of a true democratic spirit.' Together, we must work towards a world where we are strengthened by our differences, and not defined by them. – Barack Obama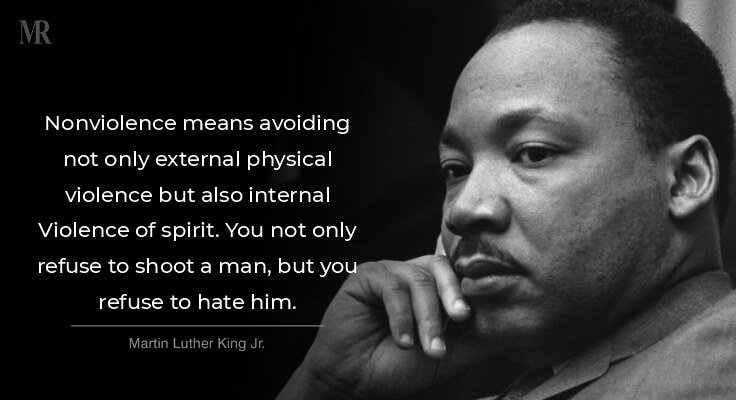 Martin Luther King Jr.
At time, when Gandhi Ji got assassinated Martin Luther King Jr. was just 19. The two of them never got chance to meet but King learned about Gandhi Ji through his writing and in 1959, he also got chance to visit India. He was heavily influenced by Gandhi's principle of nonviolence and his civil rights activism, writing that "while the Montgomery boycott was going on, India's Gandhi was the guiding light of our technique of nonviolent social change."
Nonviolence means avoiding not only external physical violence but also internal Violence of spirit. You not only refuse to shoot a man, but you refuse to hate him. – Martin Luther King Jr.
Walking towards the path of peace Gandhi ji has influenced not just the great leaders but also other individuals and taught us the importance of non-violence. Elaborating his thoughts on non-violence principle, he quotes, "Non-violence is the article of faith."
Also read, Quotes on behalf of International Non-Violence day