Born on July 21st, 1951, Robin Williams was one of the America's funniest performers and champion of many eminent awards. He captured the hearts of the world with his remarkable wit and charismatic personality. In the mid-1970s, Robin Williams began performing stand-up comedy in the San Francisco Bay Area. From there, he performed and participated in various shows and gained more popularity. Robin made his big-screen debut in a lead role-playing the famous spinach-eating sailor in Popeye (1980). This film was directed by Robert Altman and co-starring Shelley Duvall.
Following this, he acted in many films and some of them earned him Academy Award nods for lead actor. Despite becoming a famous celebrity, he was deeply plagued by depression and others demons he had. Because of this, Robin committed suicide in his Paradise Cay, California, home on August 11, 2014. After his death, four films starring him were released: Night at the Museum: Secret of the Tomb, A Merry Friggin' Christmas, Boulevard and Absolutely Anything.
To the very end, he kept us entertained with his films. So, here are some of the Robin Williams quotes on life that might help you feel a little brighter.
Transforming the world through words and ideas
While studying at Redwood High, Robin stumbled upon the drama department. Already having reputation as the class clown, he fell in love with the idea of improve performance, his comedic personality slowly emerging through drama classes. This was his first step towards become a comedian which changed his life or we can say his world.
"No matter what people tell you, words and ideas can change the world."
Always be polite and kind towards other people
Together with his second wife, Marcia Grimes, Robin created the Windfall Foundation to help donate money to a variety of causes, including St. Jude Children's Research Hospital. Also, he founded charity that helped the homeless.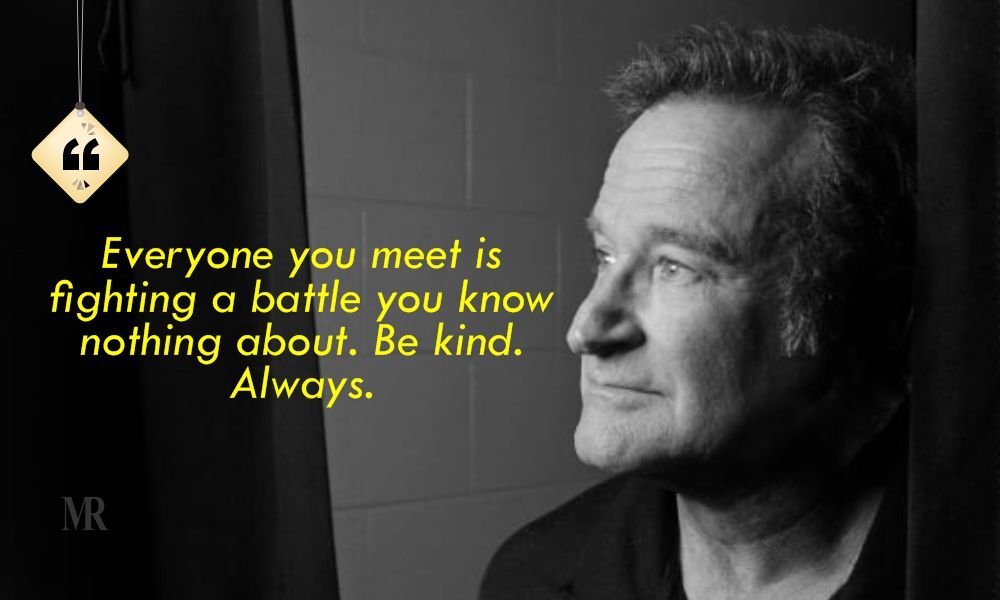 "Everyone you meet is fighting a battle you know nothing about. Be kind. Always."
Realizing the actuality
Because of stress and depression, Robin started taking drugs already. One night he met fellow comedian John Belushi after playing a late night set at a comedy club. They ended up at the Chateau Marmont, where Williams shared some cocaine from Belushi, and then left. The next day, co-star Pam Dawber broke the news to Williams on Mork & Mindy's set that Belushi died of an overdose of drugs. Robin had become devastated. The news shocked him with making lifestyle changes.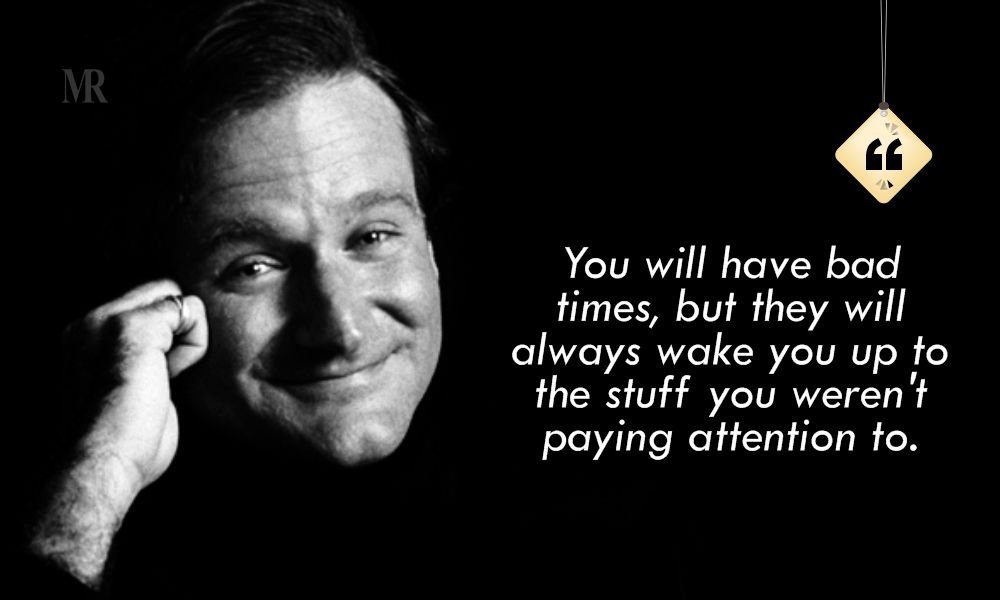 "You will have bad times, but they will always wake you up to the stuff you weren't paying attention to."
Always give your best shot at everything
While performing at the Comedy Club in Los Angeles, Robin was discovered by TV producer George Schlatter who offered him a spot on a revival of the old 60's show Laugh In. Although the show didn't survive, but he was able to established a foothold into a career in television.
"There's no shame in failing. The only shame is not giving things your best shot."
Never lose your spark
Robin's work on the Happy Days episode was improvised and augmented with physical comedy. The audience loved his role and demanded more. This led to the creation of the spin-off series Mork & Mindy, which ran from 1978 to 1982.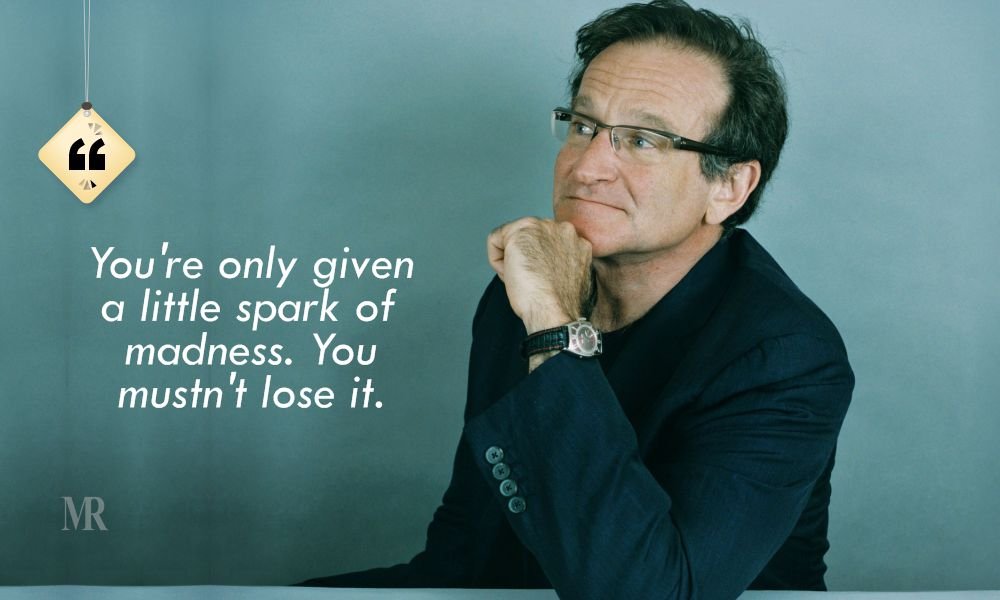 "You're only given a little spark of madness. You mustn't lose it."
Feel the bliss
It was with the birth of their son, Zachary, on April 11th, 1983 that Robin finally managed to shake off his addiction. He realized that his family needs him and now, he has a son who is going to look up for him.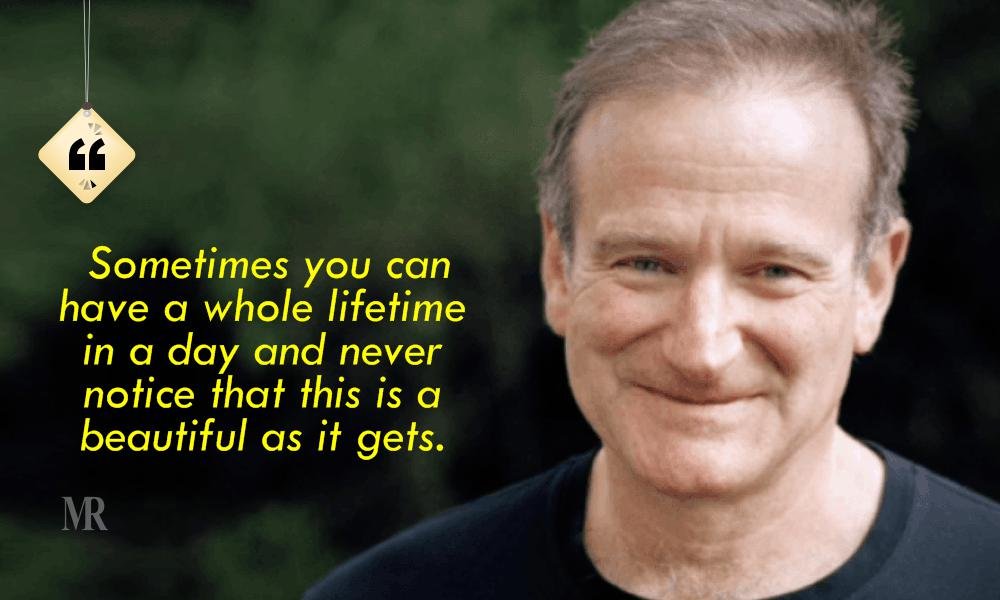 "Sometimes you can have a whole lifetime in a day and never notice that this is a beautiful as it gets."
Also Read: 25 Bob Ross quotes to brighten your day